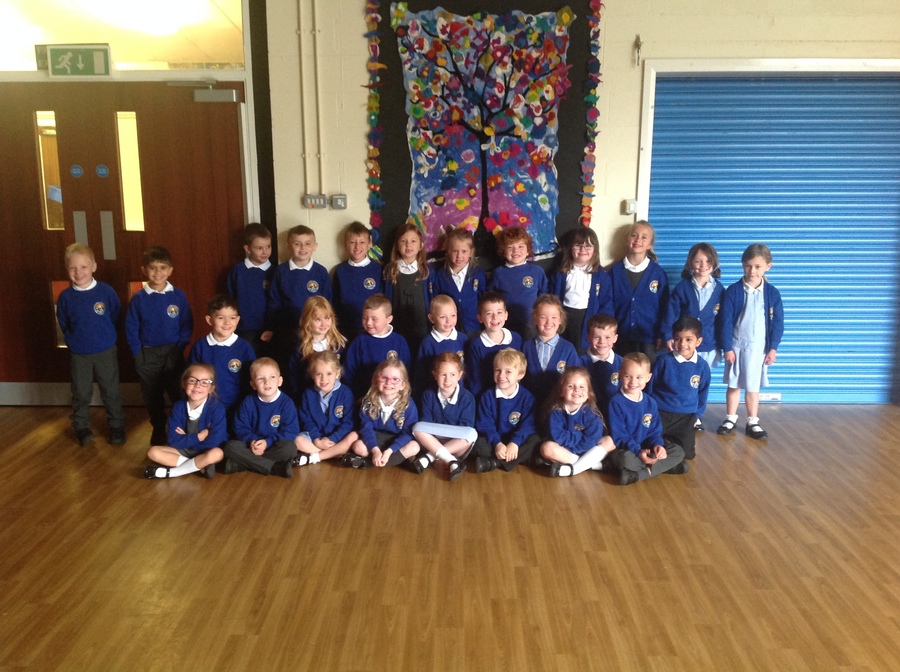 A big warm welcome to all the Year 1 children and their families!
We have just started our second term in Year 1 and soon we will be jet-setting off to India for our next topic 'Spice Delight'! We have had a wonderful first term with our topic 'Once Upon a Time' which we launched with the Middleforth Ball. We also made and decorated shields for a teddy battle, went on a trip to Hoghton Tower, had a castle-building workshop and did lots of other exciting things! Take a look at the pictures of what we've been getting up to...
At the Middleforth Ball we enjoyed a visit from the Fairy Godmother, made crowns, decorated cupcakes and did some ballroom dancing. Everyone looked fantastic in their outfits!
We had lots of fun at Hoghton Tower when we dressed up to go around the house, gardens and even down to the dungeons! We learnt lots about what it was like to live there in the Medieval days.
In November the whole school took part in World War 2 Week. We had a great time travelling back to the 1940s - visiting an Anderson Shelter, learning what to do in an air raid, bandaging one-another up in the Field Hospital, riding our scooters in a VE Day parade and dressing up as evacuees. We learnt about what it was like to grow up during the war and remembered the people that lost their lives fighting for their countries.
Before Christmas we enjoyed performing in our Nativity 'Midwives in Crisis' and looked great in all of our costumes! We also had an Elf Day where we got dressed up as Santa's Little Helpers and got busy in his workshop making cards, calendars and all sorts of other Christmas crafts. We were all definitely on the good list after that!
Homework
In line with our Eco-school status and in our bid to go paper-free we have launched online homework. Each week children will receive a 'Marvellous Maths' and 'Fun Phonics' task which can be completed online or in their green homework book (which will be sent home each Friday) and should be returned to school by the following Wednesday.
Please click on the links below to find this week's homework due back by Wednesday 24th January:
If you have any problems accessing these tasks please let Mrs Garner know.
Information for parents
Phonics and Spelling
Phonics is the primary method used to teach children to read and write. Every child in KS1 attends a daily 20 minutes phonics session teaching systematic synthetic phonics. Phonics allows them to learn the letter sounds in a clearly defined sequence with increasing difficulty. They will learn to blend (put together) the sounds in a word in order to read it,and segment (split up) the sounds in order to spell it. At Middleforth we follow the Government recommended scheme of Letters and Sounds which is based on six phases. We use lots of different resources to support the children's learning in school, such as Espresso Phonics, Phonics Bug, Read Write Inc and many other practical resources. An outline of expected learning in spelling in KS1 can be found in the National Curriculum (see below)
Reading
At Middleforth we try to promote a love of reading. Middleforth's Three Way promise is in place with regards to home readers. This is a commitment made by the school, the parents and the child (see below) Children have the opportunity to change their home reading books daily if they wish as well as taking part in a weekly guided reading session, reading on a one-to-one basis with staff and parent helpers, and visiting the library each Friday to take out a sharing book. We use a reading scheme that links closely with the teaching of systematic synthetic phonics, with a mixture of Oxford Reading Tree and Phonics Bug books.
Middleforth's Three Way Promise
Our class prayer
Dear God,
Please look after everyone at Middleforth School including all the children and grown-ups in Year 1. Let everyone laugh, play and be happy at school. Help us to be the best of friends and show love in all that we do. Take care of us and everything in our classrooms and outdoor areas. Give us courage to work hard and never give up, even when things get tough, and help us to be the best that we can be.
Now and forever,
Amen